Timeout in the 4-star spa hotel in Tyrol - Hotel Brandstetterhof in Stans
Immerse yourself in relaxation
A timeout that really earns its name ... Relaxation and balance in your spa hotel in Tyrol.
Immerse yourself in the Tyrolean spa hotel Brandstetterhof in the beauty that surrounds you in the vitality and spa area "AuszeitSpa" in Karwendel. Experience the soothing elements of our diverse treatments here in Stans.

Facilities in our AuszeitSpa
Natural bathing lake (in summer up to 28°C) for swimming and wading
Relaxation room with panorama view of the Tyrolean mountain landscape
Sun-bathing lawn at the natural swimming lake
For hot times: Finnish Sauna
For working up a gentle sweat: Organic sauna
Infrared warmth cabin
For breathing deeply: aromatic steam shower with soothing eucalyptus aroma
Spa buffet with fruit, nuts and natural teas
Treatment rooms for your wellbeing
Private Spa suite with luxury double whirlpool, music and mood lighting (for a charge)
Bathrobe and sauna towels are in your room and available for the duration of your stay
Opening hours: The saunas / steam baths are open from 2pm - 8pm / We can open the spa in the morning upon request if the weather is bad.   The outdoor area with the natural swimming lake and sunbathing lawn is at your disposal from 6am to 12am.

Dream at the hotel's natural swimming lake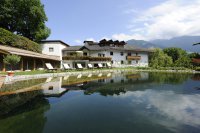 A timeout in the charming spa hotel in Tyrol is primarily a timeout in harmony with nature. Our garden is an open oasis of tranquillity – a place where you can find balance in nature. 
Swim in the natural swimming lake just like in a warm, crystal clear lake. Relax in one of the healthy lounges on the sunbathing lawn. Listen to the sound of the mountain stream rippling by. Be inspired by the mountains and start dreaming. Breathe in the fresh mountain air.
Relax more with every breath – simply inspired by nature. Welcome to your spa holiday in Tyrol.
Relax in the vitality and spa area
Choose wellbeing in the vitality and wellness area of our "AuszeitSpa". Take pause in the sauna landscape and the relaxation area.  Finnish sauna, organic sauna, infrared warmth cabin, aroma steam bath – every offer is a timeout in and of itself.
Enjoy warmth and rest – that is pure relaxation in the spa hotel Der Brandstetterhof in the Tyrolean Karwendel Mountains.
Treatments in the spa hotel in Tyrol
Feel good with a massage. Relax your muscles. Sense the inner harmony and the feeling of safety brought about by the unique body word of Lomi Lomi Nui. Dive into the bubbling water and take and intimate timeout for two in the private spa. Spend a lovely spa holiday in Tyrol. 
Everything is harmonious... The effects of the high-quality products and the competent touches of our staff. The lovingly furnished rooms.
Wellbeing means to us, feeling good all over. 
Reserve a spa treatments
Our tip: Reserve your desired appointment upon booking your holiday in the 4-star spa hotel Brandstetterhof in Tyrol.
We will be happy to assist you with your selection of treatments.
Brandstetterhof Wellness Links: