Your 4-star Hotel in Tyrol
Welcome to a wonderful place
Encounter the wonders ... Mountains as a symbol of a nature and its original purity.  The Karwendel Mountain as a home. Feel the inviting pulse in your 4-star hotel Der Brandstetterhof in Tyrol in Austria. That is the beginning of a true holiday.
In our modern hotel we create idyllic timeouts. Rooms & suites are individual refuges for our guests. Tyrolean sitting areas offer cosy meeting places. The reading corners bring relaxation at the crackling fireplace. Relaxing lounge chairs on the sun terrace and a natural bathing lake are exclusively for relaxing. Our wood-panelled restaurant in the parlour of the 400-year-old Austrian farm house is ideal for enjoying the finest pleasures in style. And our bar is here for savouring fine wines.
And we – we are here for you. It's our pleasure.
Living our history & being your home away from home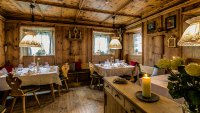 Our Tyrolean home will become your home.  The hearty and honest atmosphere in the Brandstetterhof establishes trust. And our enthusiasm for beauty and everything pleasurable carries over to our guests.  That is in the very nature of it. Our home is full of mountainous beauty. Our hotel is full of the charm of a former farm and the details are inspired by modernity. Our kitchen team relies consciously on the region and the best of Tyrol. 
The Brandstetterhof is a holiday home for everyone. And your room is your very own home away from home. 
Quality in the 4-star hotel Der Brandstetterhof in Tyrol
Small, excellent, friendly ... we believe in our motto. We are a Tyrolean hotel with only 20 rooms & suites and we concentrate on quality. In all areas. In room service, in looking after our guests, in our leisure activity offers, in our natural cuisine. Especially our familiar and personal service as well as the distinguished, sustainable culinary arts set us off from other hotels.  
We are pleased that our commitment is rewarded with happy guests – our personal contact with the guests confirms this, as do the top ratings from our guests.
Book your holiday time now and look forward to arriving at your small, charming 4-star hotel in Stans in Tyrol. 
Brandstetterhof Links: